Golf Claps, Everyone!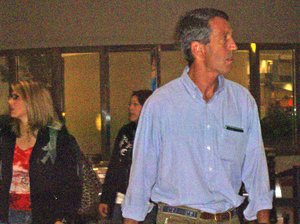 Most people who decide to carry on an illicit affair would, naturally, want to have an adequate and somewhat reliable cover story.  Being discreet is a given under such circumstances. You know — cheap motel, stolen moments in an office park somewhere, and all under the helpful pretense of "work-related travel." 
But not for Mark Sanford.  Oh no.  Dude set up a tryst in South America.  He did use a cover of wanting to get away from it all for a few days, every so often.  But not telling command and control in the state you run?  Excellent! 
A stellar achievement, Governor.  We salute you!
Add a Comment
Please
log in
to post a comment