Your Moment of Hoekstra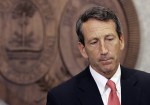 Mark Sanford (R-SC):
A guy from the northeast did a study on generational accounting. Generational accounting says what is the imputed tax for a young person born in America today? And remarkably, that number is 82,which at all ain't that far from a thing called slavery.
Shorter Mark Sanford: When the South Carolina Supreme Court made me take the stimulus funds, I knew what it felt like to be torn from my family, sold into slavery, and beaten within an inch of my life.
Add a Comment
Please
log in
to post a comment