Thomas Friedman Kindly Requests That You Die for Him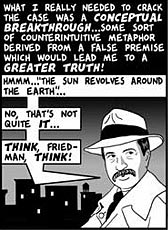 We have rare occasion to read globetrotting poseur Thomas Friedman, and after his Sunday Times column, we're discovering in ourselves an unwelcome inclination to scrape his chubby face across the nearest concrete edifice:
But now, having voted with their ballots, Iranians who want a change will have to vote again with their bodies. A regime like Iran's can only be brought down or changed if enough Iranians vote as they did in 1979 — in the street. That is what the regime fears most, because then it either has to shoot its own people or cede power.
Friedman of course is not alone in rooting from the sidelines while ignoring the game, but this is the first example we've seen of well-meaning bloodlust among the chattering class. Certainly Mir Hossein Mousavi, in whose name the protests were conducted, isn't insisting that his followers offer themselves as cannon fodder. Nor is Grand Ayatollah Hossein Ali Montazeri, who has called for three days of mourning starting Wednesday — which some are reading as an implicit call for a national strike, itself another echo of tactics from 1979.
In which case, everyone would stay safe at home. Or relatively safe, given how Basiji jackals are terrorizing neighborhoods at night.
If the protesters themselves decide that sacrifice is their only means to achieve their goal — which a week ago was merely to have their votes counted honestly — then we wholly support them. But that's not our call to make. Not from the comfort of a San Diego apartment. And certainly not from the cushy penthouse of the Times Op-Ed page.
Image: Tom Tomorrow (of course) [Salon, 2007]
Add a Comment
Please
log in
to post a comment