Watch the Ball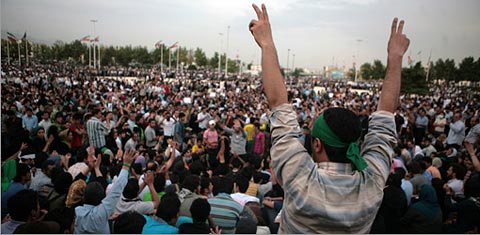 Ultimate power in Iran's convoluted governing structure is held by the aptly titled Supreme Leader, Ayatollah Khamenei. He's the one who twice blessed the fantasy election tally over the weekend, before trying to buy some time by asking the Guardian Council — half of whose members he appoints — to have another look at it.
But Khamenei's power is not unchecked, at least while Iran's rulers are still playing by the rules they set for themselves. The 86-member Assembly of Experts, led by Khamenei's rival Ayatollah Rafsanjani, has the formal authority to remove him and name his successor.
Rafsanjani, who openly supported Mir Hossein Mousavi prior to Friday's vote, has been publicly quiet since. Educated guesses have him doing some vote-counting of his own among the Assembly, assessing how much power he has to confront Khamenei.
Of course, it's not just two old men in a slap fight. Khamenei also controls the Revolutionary Guard, which last week warned against a "velvet revolution" among Mousavi's supporters. Or, for all we know, the Revolutionary Guard — which has the guns and the money — controls him.
The question is whether Khamenei is willing to sacrifice his legitimacy for authority. What now has the stirrings of revolution was just a conventional election a few days ago, leaving all the ruling pieces in place. Khamenei can still use that Guardian Council "investigation" to discover — mirabile dictu! — that Mousavi won after all, and put up with an old rival having a limited voice in the government.
The consequences of the alternatives are unknowable. We're seeing a violent crackdown, but so far it seems to have been conducted not by the Revolutionary Guard proper, but the Basij, a volunteer militia controlled by the Guard, and Ansar Hezbollah, jackbooted religious zealots. (Monday's murders of seven protesters stemmed from a skirmish outside a Basij building.)
Tehran is on the brink, and with the bodies starting to pile up, the government has little time to pull back and save itself. Watch for additional smoke signals from Khamenei, watch for any sign from Rafsanjani, watch if the Revolutionary Guard is unleashed.
Because if the folks who pull the strings don't get real smart real fast, you really will be watching a revolution.
Continuing Coverage:
niacINsight [National Iranian American Council]
Tehran Bureau [Independent Iran news]
The Lede [NYT]
Photo: The Lede
Add a Comment
Please
log in
to post a comment