Rock the Vote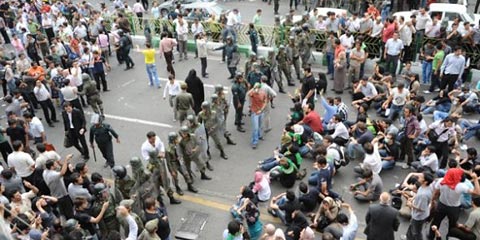 Since the occasional cutaway to Christiane Amanpour isn't doing it for us, here's a list of online resources providing continuing coverage and analysis of what certainly feels like a world-historical event, even if it's happening on a sleepy cable-news weekend.
Andrew Sullivan
If we had all day to blog, that's what we'd be doing.
niacINsight
National Iranian American Council. No clue where they stand on things the rest of the time, but Saturday they were acting like a newswire you can't ignore.
TPM
Josh Marshall was late getting started — for some strange reason he prefers spending the day off with his family — but now that he's on it, he's keeping close track.
Tehran Bureau
Independent Iran news from a site started by a Columbia Journalism grad.
The Lede
The Times? Really? Yup.
And bear in mind that with breaking news, facts are fungible: rumors may be reported without sufficient attribution, stories about street violence in one part of town may overlook calm elsewhere, and hey, the government may have actually won a two-thirds landslide. Although they're not exactly acting like it.
Add a Comment
Please
log in
to post a comment