Nobody Could Have Predicted …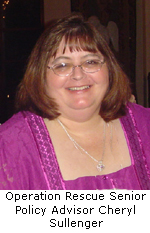 The lone whacko theory isn't holding up very well:
KANSAS CITY — When Wichita abortion doctor George Tiller stood trial in March on charges he violated state law in providing late-term abortions, the man now accused of killing him made a point of attending the hearings.

And after Tiller was acquitted on charges that he had failed to properly justify late-term abortions, the suspect, Scott Roeder, told a fellow anti-abortion activist that the whole process was a "sham."
Don't these snakehandlers have to work for a living?
Roeder apparently kept track of the state prosecution against Tiller through a senior member of Operation Rescue, the anti-abortion organization.

At the time of Roeder's arrest Sunday afternoon along Interstate 35 in Johnson County, a television station captured the vehicle on video. There on the dashboard was a note that read "Cheryl" and "Op Rescue" with a phone number.
And I'm sure "Cheryl" is very sorry she helped cause the death of Dr. Tiller.
Cheryl Sullenger, senior policy adviser for Operation Rescue out of Wichita, said Tuesday that she has spoken to Roeder in the past, but she said he would initiate the contact. She said she hasn't had any recent contact with him.

Sullenger served about two years in prison after pleading guilty to conspiring to bomb an abortion clinic in California in 1988. She has since renounced violent action.

She said Roeder's interest was in court hearings involving Tiller.

"He would call and say, 'When does court start? When's the next hearing?' " Sullenger said. "I was polite enough to give him the information. I had no reason not to. Who knew? Who knew, you know what I mean?"
Maybe not so much.
Tiller's family should sue Operation Rescue and any other zealot involved for everything they have.  Bankrupt them. They need to learn, once and for all, the pushing their religion down other people's throats will result in serious pain.
Add a Comment
Please
log in
to post a comment