BREAKING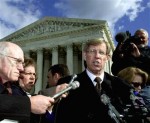 Wow:
Former U.S. solicitor general Theodore B. Olson and David Boies, who argued opposite each other in Bush v. Gore, are now teaming up to "represent two same-sex couples filing suit after being denied marriage licenses because of Proposition 8. Their suit, to be filed in U.S. District Court in California, calls for an injunction against the proposition, allowing immediate reinstatement of marriage rights for same-sex couples." The American Foundation for Equal Rights, which is leading the case, notes that it is the first time that Olson and Boies have "served alongside each other as co-counsel." "For a long time I've personally felt that we are doing a grave injustice for people throughout this country by denying equality to gay and lesbian individuals," Olson told The Advocate in an interview. A copy of the 10-page complaint is here.
And I was sure Ted Olson was a complete douchebag.  I've learned something new.
AFER Press Conference (video)
Update: Courtesy of SanFranLefty, here's the motion for preliminary injunction (pdf).
Add a Comment
Please
log in
to post a comment