Cheney Speaks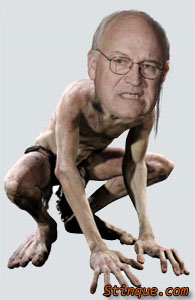 Did'ya hear? Dick Cheney gave a speech today. And all the big networks covered it and broadcast it live because… hey… when the guy who ran the country so expertly for eight years gives a speech, the American people want to hear what he has to say… if only for the sake of nostalgia.
The speech itself was long and boring and all about what an awful person that Barack Obama fellow is because he doesn't want to waterboard prisoners any more to figure out once and for all where Saddam hid those darned, elusive WMDs.
And while the speech is too long and boring to reprint in its entirety (or even to quote from at length) it does have one redeeming virtue, and that's that you can summarize Cheney's entire argument (indeed, his philosophy of government) by quoting just one sentence from it. And here it is. Gentle reader, I give you Dick Cheney's justification for eight lawless years of human rights violations, torture, secret prisons, detainee deaths while under interrogation, and an illegal war in the Middle East:
It is much closer to the truth that terrorists hate this country precisely because of the values we profess and seek to live by, not by some alleged failure to do so.
That's right: the terrorists hate us because we profess to stand for justice, freedom and the protection of human rights, not because we in fact, act like rapacious war criminals (allegedly). In other words, it's what we say that upsets them… not so much what we do.
The net result of this perspicacious, praiseworthy and not at all tendentious observation is that, according to Cheney, we might as well go on acting like ruthless, a-moral butchers, unconcerned by the rule of law because everyone's going to hate us eiether way (though ironically enough, for the wrong reason! LOL!).
Serolf Divad runs the one of the largest whorehouses in Texas, second only to the Texas State GOP headquarters.
Add a Comment
Please
log in
to post a comment