The Devil Made Her Do It
She says she remained silent? Going on Dobson's show? Watch it: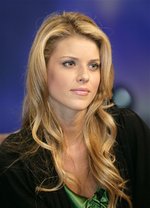 Let the Bible thumping commence:
In an interview Monday with conservative Christian radio talk show host James Dobson, Prejean said her answer to the pagent [sic] judge's question on gay marriage pitted her against the Devil.

"I felt as though Satan was trying to tempt me in asking this question," she said. "And then God was in my head and in my heart saying: 'Do not compromise this. You need to stand up for Me and you need to share with all these people…you need to witness to them.'"
And there are new nekkid pictures!  Slightly NSFW photo after the jump.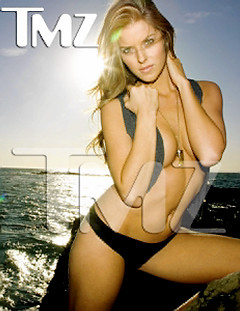 I think she looks better without the implants, but that's just me. Click here to see the more risque stuff.
Back to the stupid:
She said God asked her, "Carrie, how bad do you want this? Are you willing to compromise your beliefs for a one-year crown of Miss USA?"

* * *

Whether to let the born-again beauty keep her crown is [Donald] Trump's call.

But frustrated pageant officials on Monday appointed Prejean's runnerup, Tami Farrell, a special "Beauty of California Ambassador" to fill in for the tarnished queen.

Prejean has failed to make appearances in violation of her contract, complained Miss California USA co-executive directors Keith Lewis and Shanna Moakler.
I think Trump will pull the plug.  Anyone think otherwise?
Perez Hilton has more.
Add a Comment
Please
log in
to post a comment