Déjà Vu All Over Again
UPDATED below with Bonus GOP Gay-Hatin' Video.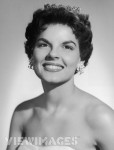 I thought of this when the whole Carrie Prejean thing went down, but did not post it.  CB's comment jogged my memory.  Behold – a Bigoted Beauty Queen (let's call then "BBQs") from the distant past:
Remember Anita Bryant, the Miss America runner-up turned orange juice tout turned anti-gay campaigner? Though she long ago faded from public view, her legacy survives in Florida.

Bryant, who condemned homosexuality as immoral and "against God's wishes," is best known for her 1977 campaign to repeal a Miami ordinance banning anti-gay discrimination. Her organization, Save Our Children, claimed that gays — or "known practicing homosexuals," in her lingo — were converting children to homosexuality. It was thus no surprise that after Bryant succeeded in her self-described crusade against the bias ordinance, she turned her sights on Florida's adoption laws.
Unsurprisingly, Anita went from being a professional pain in the ass to being a professional Christian.  I know, I know ….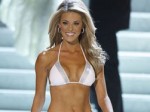 I wonder if this is the path the newest BBQ will go down? Chicago Bureau tells us that she's going to do a spot for the NOM nutters:
WASHINGTON (CNN) – Carrie Prejean, the Miss USA contestant from California who famously declared her opposition to same sex marriage on the pageant stage, will star in a new $1.5 million ad campaign funded by the National Organization for Marriage.

Prejean was roasted by same-sex marriage advocates after she stood up for what she called "opposite marriage" (marriage between a man and a woman) when responding to a question from celebrity blogger Perez Hilton during the pageant. But she's also become a fresh-faced standard-bearer for the same-sex marriage opponents, who have rallied to her defense.
Maybe Perez Hilton will do this to our little runnerup:
The Hate Crimes Bill is causing another GOP tantrum.
Add a Comment
Please
log in
to post a comment