RIP Pontiac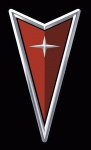 Because none of you bothered to get up off your asses and buy a Solstice or a G8, GM's "excitement" division will go the way of Oldsmobile and Plymouth:
Pontiac is a brand of automobiles produced since 1926 and sold in the United States, Canada and Mexico by General Motors (GM), marketed as an "athletic" brand specializing in mainstream performance vehicles.

On April 27, 2009, amid ongoing financial problems and restructuring efforts, GM announced that it would phase out the Pontiac brand by the end of 2010 and focus on four core brands in the U.S.: Chevrolet, Cadillac, Buick, and GMC.[1]
In my opinion it was badge-engineering that killed Pontiac (an Impala is a Catalina is an Olds 88 is a Lesabre is a Sedan de Ville).  Why buy a car from Pontiac if Chevy offered the same car for less money?
The Pontiac brand was introduced by General Motors in 1926 as the 'companion' marque to GM's Oakland Motor Car line. The Pontiac name was first used in 1906 by the Pontiac Spring & Wagon Works. A name linked to Chief Pontiac, an American Indian chief who led an unsuccessful uprising against the British shortly after the French and Indian War. The Oakland Motor Company and Pontiac Spring & Wagon Works Company merged in November 1908 under the name of the Oakland Motor Car Company. The operations of both companies were joined together in Pontiac, Michigan (of Oakland County) to build the Cartercar. General Motors in 1909 purchased Oakland. General Motors' first Pontiac was conceived of as an affordable six cylinder intending to compete in the more inexpensive four cylinder model range. Within months of its introduction, Pontiac was outselling Oakland. As a result of Pontiac's sales rising while Oakland's sales were declining, Pontiac became the only 'companion' marque to survive its 'parent', with Oakland ceasing production in 1932.
Damn I love cars like this – a 1948 Pontiac Silver Streak Convertible Coupe: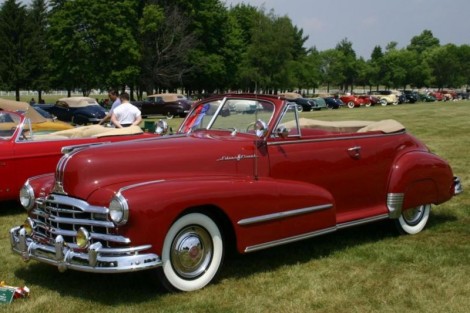 My buddy's Dad had one of these with a 455 in it, and we used to scare the crap out of each other.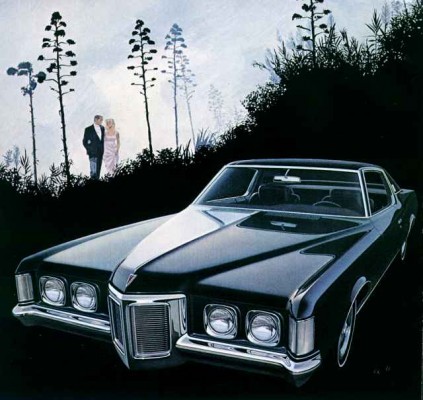 Yes, it's a 1969 Pontiac Grand Prix.  Station wagons had the same engine, but this was a bit more exciting.
So now Pontiac will go to that junkyard in the sky, sometime during 2010.  RIP GTO.
BONUS AUTOMOTIVE NONSENSE: Funniest "Pontiac" ad I ever saw wasn't selling a Pontiac:
Add a Comment
Please
log in
to post a comment