How Not to be Seen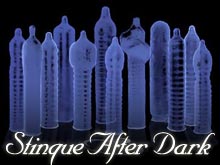 Products on sale at "Shop in Private," which must have a fascinating customer list:
Mandelay is FDA approved and helps you last longer before you ejaculate.
Coochy Conditioning Shave cream is a rash-free body shave for all areas of the body (legs, underarms, pubic area and face). Coochy leaves skin smooth and soft. Coochy Shave is also a highly moisturized hair conditioner that will soften the coarsest body hair. Beards too!
Let this Teddy Bear Vibe Hider be your best friend, and it will keep all of your most intimate secrets safe. This super soft bear is 22″ tall, and totally hug-able. It feels just like a normal teddy bear, but in its back, there is a secret pouch.
My Sexy Little Pole is a professional edition stripper pole made out of stainless steel. The My Sexy Little Pole is strong, safe and durable! The pole installs and can be put away in minutes, and is perfect for beginners and the more advanced dancers. The My Sexy Little Pole is much stronger than comparable poles, it can support weights up to 200 pounds.
Nullo Internal Deodorant Tablets
Clinical studies show that Nullo controls body odors due to problems with bowel control, the performance of a colostomy or ileostomy, and/or fecal incontinence.
The Four Seasons Tighter Fitting Condoms are more secure fitting condoms. They have a diameter of 49MM, the same diameter as the other smaller condoms that we used to sell. Typical condoms are about 10% larger than this, so the difference is not huge, but the added security is welcome to many people.
The Robo Suck strokes, vibrates and sucks your penis simultaneously. The nubby sleeve inside the Robo Suck enhances the pleasure you feel. You control the level of vibration. You can also adjust exactly where the strokes touch your penis. The result is a volcanic orgasm that only simultaneous vibrating, stroking and sucking can deliver.
Apparently, anal bleaching is the new brazilian waxing. For years, rumors persisted that stars were bleaching their anal areas to look younger… everywhere. Most people, including us, figured it was an urban myth. Then an episode of Doctor 90210 aired where an adult movie starlet came to the doctor's office and exclaimed "I'm here for the anal bleaching."
Add a Comment
Please
log in
to post a comment