Bad Judge of the Week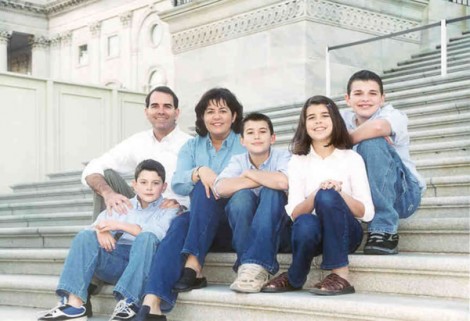 The smiling Dad in this picture is the Honorable Jay S. Bybee.  He is a judge on the Ninth Circuit Court of Appeals. He's a practicing Mormon.  He has taught constitutional and administrative law. He worked at the Department of Justice until he was nominated for the Ninth Circuit. A Bush appointee, he was confirmed in March of 2003.
During Bybee's confirmation process, Sen. Harry Reid (D-Nevada), Sen. John Ensign (R-Nevada), Sen. Orrin Hatch (R-Utah), Sen. Larry Craig (R-Idaho), and Sen. Charles Schumer (D-New York) spoke publicly on his behalf. At the William S. Boyd School of Law at the University of Nevada at Las Vegas where Bybee was a founding member of the faculty, Dean Richard Morgan called him a "nice, humble, and decent human being, who was also a highly intelligent and accomplished lawyer and teacher."
There's only one problem.  Judge Bybee is also a monster.
The newest round of "torture memos" have just been released by the Department of Justice. I'm only just beginning to go through them, but I have a preliminary thought.

The first, and very chilling memo in the group is an analysis of the various techniques that were used by C.I.A. interrogators on Abu Zubaydah. The author of the memo, which is dated August 1, 2002, is Jay S. Bybee, who was the Assistant Attorney General for the Office of Legal Counsel. Bybee concludes that all of these various techniques, including waterboarding, do not constitute torture under American or international law.

Bybee is generally the forgotten man in torture studies of the Bush era. The best known of the legal architects of the torture regime is John Yoo, who was a deputy to Bybee. For better or worse, Yoo has been a vocal defender of the various torture policies, and he remains outspoken on these issues. But whatever happened to his boss?
He's deciding the fate of those unlucky enough to draw him for their appeal. If you want to read the memo, here's a link.
Today, Bybee is a judge of the United States Court of Appeals for the Ninth Circuit. He was confirmed by the Senate on March 13, 2003—some time before any of the "torture memos" became public. He has never answered questions about them, has never had to defend his conduct, has never endured anywhere near the amount of public scrutiny (and abuse) as Yoo. It is an understatement to say that he has kept a low profile since becoming a judge.
It appears that, despite the fact that he practices law in Nevada, he's not barred there. I'd like to know where he is admittted. I also wonder if a federal judge can practice law in a state without being a member of that state's bar. Admittedly the Ninth Circuit encompasses states other than Nevada, including California and Alaska, but still I wonder.
Jonathan Turley, my very own Torts professor, says:
The newly released torture memos reveal the comprehensive and premeditated character of America's torture program. It also highlights the shameful role of now Judge Bybee, who distorts the current law in the area to justify a clear war crime. In the meantime, former administration officials have called the release a danger to national security.I will be discussing the memos on tonight's MSNBC Countdown.

Bybee struggles to justify waterboarding despite the fact that it has uniformly been treated as torture. Indeed both the Red Cross and Bush officials have defined it was torture. Most recently, Richard Armitage conceded that the Bush Administration did engage in clear torture and said that he should have resigned in light of such allegations.
Turley will be on MSNBC tonight.
The only conclusion available here is that Bybee is not fit to sit on a park bench, much less the federal bench.  I will write to Schumer. What else can we do Stinquers?
UPDATE: Here's what I sent to The Schume:
You supported Jay Bybee for a seat on the Ninth Circuit.  Now that the torture memos are out, it's clear the only bench he should be sitting on is one in a jail cell.  At minimum he should be impeached.  Disingenuous legal reasoning used to permit activities universally acknowledged as torture – another hallmark of the Bush administration.
So what are you doing to do about it?  Will you call for impeachment?  Maybe disciplinary action by his bar? Let me know.
Add a Comment
Please
log in
to post a comment