Right-Wing Orthography: A Survey of the Literature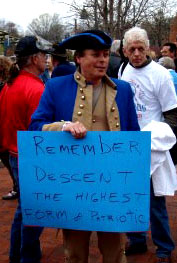 Just in case you are somewhat puzzled by the title of this post, allow me to explain: The word "orthography" specifies an academic discipline most commonly practiced by the largely Socialist, America-hating faculty of elite Northeastern colleges like Harvard, Princeton, Yale and the Massachusetts Community College at Quinsigamond. Like Socialism, orthography is doctrinaire and very strict in its oppressive, freedom-limiting dogmas, allowing for little variation from its largely capricious and arbitrary norms. Much as they demand adherence to political correctness, Marxist theorists at Yale, for instance, demand "orthographical correctness" of their students, and will frequently deduct points from essays and reaction papers that diverge even the slightest from the orthographical straight-jacket devised by such America-hating orthographical activists as Noah Webster.
But, of course, Conservatives love freedom, unlike the Socialist enemy. And what sort of freedom can man truly be said to possess if he is divested of the freedom to spell words any damn way he pleases? Was not the American Revolution sparked by the thirteen colonies' refusal to spell the world "color" with a "u"? So as a tribute to the proud men and women of the conservative movement who have bravely severed the chains of orthographical tyranny, Stinque bring you a survey of creative conservative spelling:
An oldie but goody: This is the picture that launched the right-wing rebellion against orthographical orthodoxy. There are even dictionary entries devoted to this image.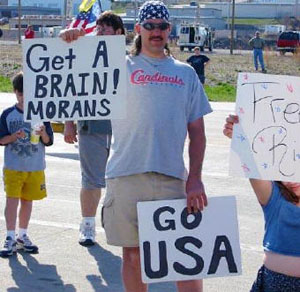 Nothing riles up conservatives quite so much as all those smelly immigrants who refuse to learn the English language (except for maybe left-wing academics who demand that their students learn to spell correctly):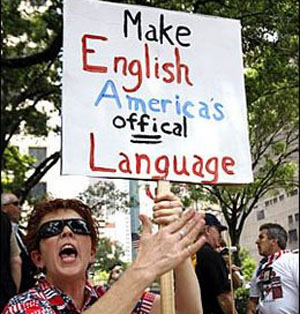 The word "bought" is the past tense of the verb "to buy," which is a synonym of "purchase." The word "baught," on the other hand, refers to the practice of being forced to buy someone a flat screen TV by the US government while dressing up as a secret service agent.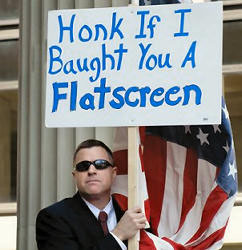 The hallmark of Barack Obama's administration is probably its lack of "competnce," which, unfortunately for this (smokin' hot) right-wing protester is a word that means the opposite of "competence":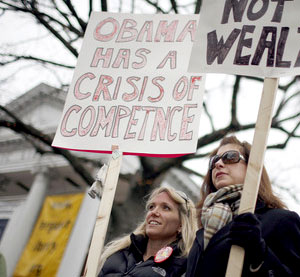 "Govemment" is how they spell "government" in Communist North Korea: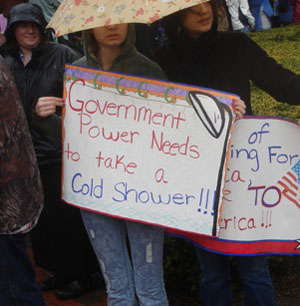 The ability to foresee the consequences of one's actions, to plan ahead and prepare for future contingencies is one of the capabilities that distinguishes homo sapiens sapiens from the rest of the animal kingdom. It is also an ability that separates liberals from conservatives: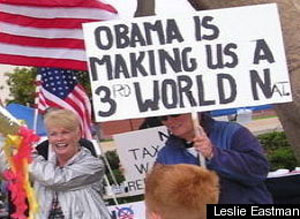 And lest you object that no website with the name "stinque" should make fun of the orthographical liberties taken by right-wing troglodites and conservative sorority girls, keep in mind that we're not making fun of these people. We're celebrating them… or better yet: seberlating.
Serolf Divad runs the largest home for wayward girls in Tupelo, MS.
Add a Comment
Please
log in
to post a comment