My ADD is Kicking In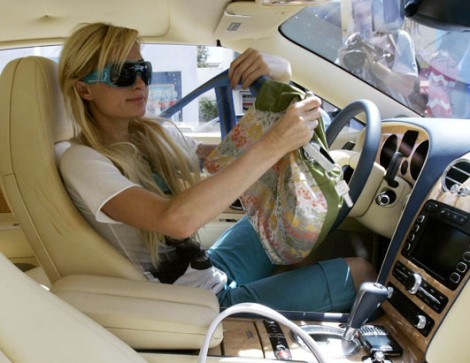 Can't concentrate today, so I'll just post a bunch of stupid shit, and you can take your pick.
1) Another day, another wingnut:
Did you ever wish there were a Christian version of kosher salt? I thought not. But apparently a retired barber, Joe Godlewski, did.

Godlewski, who lives in western Maryland, has named his new product Blessed Christian Salt. It went on the market this week.
2) Paris Hilton will spend $280 large to add a diamond-encrusted dashboard to her Bentley Continental GT (about $100k more than the fucking car cost):
Paris got one of her guys to phone Bentley in Crewe, where the vehicle was made, to ask if it would be possible to give it a little more sparkle.
When the man said she wanted to stud the dashboard with a couple of hundred grand's worth of diamonds, we were stunned. We're used to dealing with the stars so we expect the odd extravagance, but this is something else.
3) Having trouble understanding the world of shit we're in?  Listen to this guy – he's got a good 'splanation. This episode of This American Life is also very good.
4) Vanity Fair has Little Tommy Friedman's Five Worst Predictions:
In 2005, Friedman explained that it was necessary for Democrats "to start thinking seriously about Iraq" lest the party "become unimportant." Though Democrats never came around to Friedman's way of serious thinking , they did manage to take control of both chambers of Congress the following year, ushering in a period of nearly unprecedented political dominance that continues to this day, which strikes me as a pretty important thing to do.
5) See Jon Stewart administer a beatdown on Rick Santelli.
Add a Comment
Please
log in
to post a comment