Rational Investing Will Be the Death of Us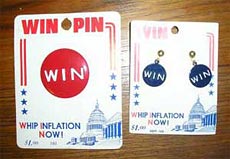 You'll forgive our financial ignorance, but after we blew our inheritance on Tulip Futures, we've limited our investing to losing quarters in the couch, knowing they'll remain safe until we need them.
But with headlines screaming DOW 40,000 7,000, we're starting to wonder what the fuss is about. Haven't we been hearing for years about inflated stock (and housing) prices? And if they're inflated, doesn't that suggest that someone needs to take some air out of the tires?
Unless, of course, you've been leveraging everything on a bet that stocks will be even more inflated. In which case that Red Button is looking more like a whoopie cushion.
We vaguely remember talk years ago about some incredibly sophisticated measure of value called the "price/earnings ratio", which if we hadn't been sleeping through econ classes would have been a calculation of what you pay for a stock and what the company earns — something called "profit", a term we're familiar with from Deep Space Nine.
And when we look at a graph of the historic p/e ratio for the "S&P 500" (either a laundry detergent or grocery-store chain, we're not sure which), most of the time it bounces between 10 and 25 — except starting in the late 1990s, when the damn thing splooges to 35 and 45.
Or, to bring us up to date: 30.
So, it would seem that stocks remain inflated to almost twice their historic p/e average of 16. Or, if you prefer to measure these things in more reasonable decade-long stretches, they're just now returning to normal.
Which puts us around, let's say, May 1997. The last time the Dow tripped the 7,000 wire. Remind us again why we're calling this a crisis?
(Full disclosure: The author has yet to make an idiot of himself on CNBC.)
Why Stocks Still Aren't Cheap [NYT, Feb. 20]
Add a Comment
Please
log in
to post a comment