Hooray for Hollywood!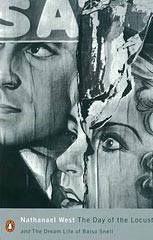 Title: The Day of the Locust
Author: Nathanael West
Rank: 805,708
Blurb: "Tod Hackett is a brilliant young artist — and a man in danger of losing his heart. Brought to an LA studio as a set-designer, he is soon caught up in a fantasy world where the cult of celebrity rules. But when he becomes besotted by the beautiful Faye, an aspiring actress and occasional call-girl, his dream rapidly becomes a nightmare. For, with little in the way of looks and no money to buy her time, Tod's desperate passion can only lead to frustration, disillusionment and rage."
Review: "The story, if such it can be called, consists of flashes of Hollywood's lunatic fringe who careen around, sometimes drunk, sometimes sex driven, sometimes just screwball. There is no plot — merely scenes here and there showing up Hollywood nuts and freaks, rather than glamor girls."
Customers Also Bought: "The Postman Always Rings Twice", by James M. Cain
Footnote: It's Double Liveblog Sunday! Our Red Carpet coverage starts at 6 p.m. Eastern, and we switch to the Oscars at 8:15 p.m.
Buy or Die [Stinque@Amazon kickback link]
Add a Comment
Please
log in
to post a comment