Bad Law Professor of the Week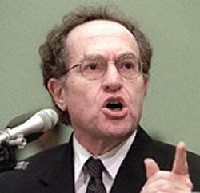 Alan M. Dershowitz is the Felix Frankfurter Professor of Law at the Harvard Law School. He appears frequently on TV as a talking head. He is known to throw tantrums and has been caught copying the work of others without attribution. I once met him and found him to be short and rather annoying.
More troubling is Professor Dershowitz's support for torture.
After the events of Sept. 11, with many al Qaida members in custody, Dershowitz says he wants to bring the debate to the forefront. He gave the "ticking bomb" scenario – a person refusing to tell when and where a bomb will go off – as an example of the type of case warranting torture.
Of course, there is no such thing as the "ticking bomb" scenario, but this has escaped Professor Dershowitz's notice.
Dershowitz, often described as an ardent defender of civil liberties, has been accused of trying to stop the publication of a book that criticized him. More recently, he has tried to intimidate students who want their university to divest from the State of Israel:
Students of Hampshire College are complaining of harassing or intimidating telephone calls. Nothing new there, such calls can be common particularly when the students are leading a political cause. Yet, the alleged caller was Harvard Law Professor Alan Dershowitz, who they claim was upset over their effort to get the school to divest from Israel. They allege that Dershowitz (who had a child go to Hampshire) has been calling students and threatening to organize a boycott of the school.
I love the smell of free speech in the morning.
Add a Comment
Please
log in
to post a comment