Barry In The House: Live!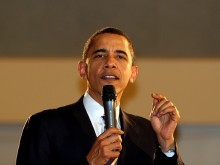 Well, well, well.  Let's see what he does under light-to-moderate pressure.  White House Press Conference — with a guy who can actually respond in English!  With commentary from YOU!
1956 (ET): The story so far?  Cloture in the Senate today, biggish vote tomorrow, conference committee speed round thereafter.  Or something like that.
2000: Barack Obama has won the toss, and will receive.
2002: Anyone here got recon on why Elkhart is sucking wind worse than anyone else in the nation?  15%+ unemployment blows.
2004: Ronald Reagan doing backflips in his grave right about now with the "government is the only solution" bit.
2007: No pet projects or earmarks?  C'mon, Barry.  Pull the other one.
2010: Black Eagle bringing the doom, according to AP hack.  Barry: things are bad — worse than bad.  They're crazy.  Etc.
2012: Overgeneralizing about worries about government intervention.  Smooth.
2014: This answer to the first question is taking forever.  The ramble moves into TurboTax's plan tomorrow — a place where one ought not go.
2016: Iran question from Reuters.  He looks kind of off balance at first, but rolling into the whole nuke thing.  Something tells me this answer is going to be [somewhat] in-op tomorrow, after Bibi takes it down in Israel on account of mysogynist Israeli voters going for the Inadequate Fat Male.
2019: George Mitchell?  Meh.  Not a good day to bring him up.
2020: "It's gonna take time."  But he's stepping on the gas nonetheless.  Hmm.  Oh, and that third cabinet dude wasn't exactly your plan, on account of Senor Itchy bailing on you.
2022: It's official: Elkhart is the new Joe the Plumber.
2023: He's playing the whole Republican non-cooperation thing wrong.  He's inviting people that have no interest in signing up.  But also: blaming Bush can only go so far.
2024: No earmarks?  Again?  There could be some fact checking on this that can bury this guy.  Danger!
2026: Kind of getting snippy here.  And we are on Question No. 3 and 16 minutes of responding (and counting).  This may take some getting used to.
2027: Notably — nobody has asked for a follow-up question.  No need for same.  Interesting from Chuck Todd — munnie to pay off the credit cards not being Change We Can Believe In.
2030: I'm thinking the phrase we're looking for is "law prof."  Taking the questions and turning them around.
2032: Americans not engaging in long-term financial planning.  No shit.
2034: Barry's thinking that he can ride the whole "corporate jet" thing to get TARP III: The Search For Credit passed.  And oooh — delegating to TurboTax.  If that goes south?  Watch your freaking back, Tim.
2036: How will success be measured?  Dubya would have shrugged, smirked, and said something along the lines of "believe me."  Barry puts a number on job creation, credit loosening up.  And, of course, the health and well-being of Elkhart.
2038: This year is going to be "bad."  We knew that.  He's discounting the power of impatience.
2040: Ooooh, the Dover question.  And Barry…. dodges.  Darn.  In re Afghanistan timetable?  Another circumlocution.  Which may or may not be understandable, but still somewhat less than satisfying.
2044: Boy oh boy — TurboTax is going to toss and turn tonight.
2045: Oh, Plugz.  Give the man credit — he's going to shake things up.  Not in a good way, mind.  But YOU WILL BE ENTERTAINED.
2047: Barry hasn't called on Helen Thomas yet.  And she gets passed over for a question about A-Fraud.  Oy.
2048: Oh, there's Helen.  Actually gets off half a good question (in re Pakistan) and one where she could do some research (who has been set up the bomb).  To the content:  blah blah I have no clue how to fix the safe havens without invading Pakistan blah.  But also: nukes are bad.
2052: HuffPo gets a question?  We are down the rabbit hole now.  And putting him on the spot on going after Bushies, too.  Well played.  And the response?  I'm underwhelmed with the whole "the past is the past" thing.  And yet: "nobody is above the law."  The door's open a crack, but the carpenters are coming in next week.  Shoot.
2054: Come on, Barry… if they aren't going to play ball, they aren't going to play ball.  Get to grips with that, throw the legislation into fifth and open this baby up.  Elkhart will understand.  Trust.
2057: I don't know if the whole "the Republicans ran up the budget" thing is registering Out There.  Would be wonderful if it did.  But still.
2100: And we've gone past the hour mark.  Any recollection of Bush pressers going this long?  (Actually: any recollection of Bush pressers at all?)  And just as I hit on this — he's out.
2101: Memo to Keef: you gots to go back to cynical in a hurry.  For real, dude.
2103: And they are going off on how it looked.  Which means they have nothing left over at MSNBC.  Interestingly enough: neither do I.  Say a prayer tonight for those poor miserable wretches in the Elkhart metro area.  Laters.
Add a Comment
Please
log in
to post a comment