Republicans Still Adjusting to Their Role as the "Party of No"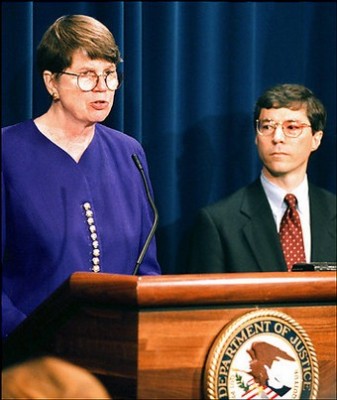 David Ogden (that's him in the picture, on the right), who President Obama has nominated to serve as deputy attorney general, is under fire from Republicans because, in the words of a former Bush Justice official:
Ogden has been an activist in support of a right to pornography, a right of abortion and the rights of homosexuals.
This is an extremely radical position of course, since the first two of those three things are rights we definitely already have. And even most of the Neanderthals who are against gay marriage use cryptic language about the sanctity of marriage instead of declaring themselves against "the rights of homosexuals." 
Much of the opposition comes from the religious right, who apparently, amazingly, still exist and are allowed to contribute to the national discourse.    They do not like Ogden's former defense of Playboy, which shouldn't even count as pornography since you can't make anything out through the thick veneer of airbrushed silicon.  Also, one entertaining blog post decided that Obama  shall now be known as  the "abortion president", then went on to criticize his choice of pro-Choice Ogden at the same time it lambasts his re-authorization of the Children's Health Insurance Program. Because the only thing worse than reducing unwanted pregnancies is helping to get medical care for the babies we already have.
Whatever. Ogden's still going to get his job, since Obama always gets things he wants, unless those things happen to wear dopey red-rimmed glasses.
Plus, I know the real reason Republicans don't like him.  During his hearing, Ogden also said:
Child pornography is abhorrent.
At which point forty Republican Senators decided to vote against him as they surreptitiously closed their laptops and slid them under their chairs.
Add a Comment
Please
log in
to post a comment