Nobody Could Have Predicted …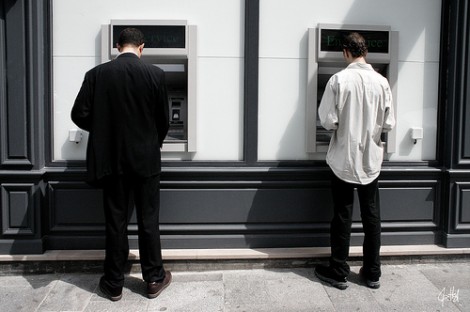 Once again, banking's Best and Brightest piss away your tax dollars!
You could hardly blame Kenneth D. Lewis, the embattled leader of the Bank of America Corporation, for feeling a bit of buyer's remorse.

His audacious acquisition of Merrill Lynch, the giant brokerage, looks so disastrous that many on Wall Street wonder if he can keep his job.

Four months ago, as turmoil swept Wall Street, Mr. Lewis's bank bought the foundering brokerage for $50 billion in stock. Today, the two companies are worth $40 billion combined.
Of course, no one could have predicted this would happen:
Some of Mr. Lewis's shareholders are angry, and the lawsuits are flying.

Many initially questioned whether Mr. Lewis paid too much for Merrill. But now the conversation has turned to whether he adequately disclosed the risks of the acquisition to his shareholders. After Mr. Lewis clinched his deal, Merrill lost a staggering $15.3 billion during the fourth quarter. Bank of America went ahead with the purchase anyway.
A billion here, a billion there …
Now, Mr. Lewis is struggling to fix Merrill while integrating his bank with yet another company, the Countrywide Financial Corporation, which his bank bought also last year.
Countrywide?  What could possibly go wrong?
Add a Comment
Please
log in
to post a comment