Falling, Falling, Falling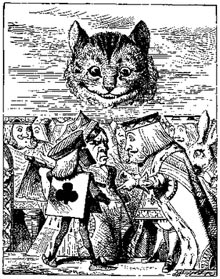 Back in high school, we came this close to getting caught up in the then-nascent Dungeons & Dragons cult. But something about it — perhaps it was the terminal boredom and encyclopedic rules — thwarted our interest.
Or perhaps it was the sensation of falling-falling-falling we felt when we grasped what a D&D commitment would require of us. Kind of like the sensation we felt last night when we received an alarming! email about "a conspiracy at an awful site plotting to use dirty tricks to undermine Team Sarah."
OMG: Trolls!
But not just any trolls: agent provocateurs, the klassy kind. Working in teams, they were conspiring to infiltrate and rot Team Sarah from within. Team Sarah! The Talibunny support group! A site so famous and respected that we still wouldn't have heard of it had not a reader tipped us off.
The email directed us to a report at RedState that blows the lid off the plot: "Liberal Conspiracy to Frame and Defame TeamSarah: Busted!" And there, we learned the ugly truth:
The most unsavory leftist elements are doing something weirdly similar, in cyberspace, to the arson committed against Gov. Palin's church in Wasilla, Alaska.
Never before was it so clear to us that posting naughty comments on a public website is as vile and reprehensible as pouring gasoline around a church with women and children inside and throwing a match. And with "over 15 pages of evidence on file from this conspiracy," we knew they weren't shitting us.
Why, just look at the threads from Democratic Underground and YA for Obama where the cybersaboteurs celebrate their victories! And shudder — shudder, my friends — when you discover the mastermind behind the latest conspiracy:
Something Awful. Which has been "mocking itself and the Internet since 1999." Known by their slogan, "The Internet Makes You Stupid." They are the reason Team Sarah sent us the "Caught red-handed!" email last night. They are the soulless Liberal Conspirators who lack even a shred of decency. A prank website.
And that's when we realized: It's Dungeons & Dragons, dude. Back off. This way lies madness.
So we'll leave them to their conspiracies and alarms and counter-terrorism efforts. And oh, by the way, would you care to send Team Sarah a modest donation of $5 to $1,000? Constant vigilance against Internet barbarians doesn't come cheap.
Add a Comment
Please
log in
to post a comment