Welcome to the 2008 Stinque Awards!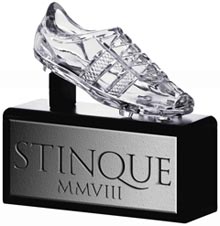 Where the hell is the tympani? We ordered a tympani. And spotlights. We insisted. Shit.
Well, shine a flashlight at the ceiling and pat your tummy, because The 2008 Stinque Awards wait for no incompetent vendor. We'll be announcing winners every hour today, leading up to the Crystal Douchebag for Lifetime Achievement at 4 p.m.
The 2008 Stinque Awards for Achievement in Infamy are dedicated to Muntader al-Zaidi, wielder of the Footwear That Changed the World. This year's award is a handsome Crystal Shoe created exclusively for Stinque by 24-Hour Novelties & Box Wine SuperStore of Tarzana, California, which also dropped a pallet of fine rosés, blushes and rieslings in the garage. Remember their slogan: "If we don't have it, you can probably find it at the next strip mall."
Our distinguished panel of judges this year included Yoda Pez, Cat Stick, and Fishtray. They were locked in a hermetically sealed drawer all week during their deliberations, breaking only for daily snowball fights. The decisions of the judges are final, allowing for last-minute bribes.
We begin our tympani-less, spotlight-less ceremony with the Technical Awards, a last-minute addition to our roster when members of the Nominating Committee insisted on being nice to a few people. Fine, we said. We'll just bury them at the ass-crack of dawn.
Saint Stinque Award: Joe Strummer
Best Legislative Fuck-You: Ted Kennedy, for interrupting his cancer treatment to break a filibuster on a bill overturning cuts in Medicare reimbursements
Best Bitchslap: Anonymous, for punching Lehman Brothers CEO Richard Fuld in the Lehman gym
Sea of White People at the Republican Convention Award: Wyatt Cenac
Rachel Maddow Award for Being Rachel Maddow: Rachel Maddow
Next hour: Golden Helmet for Best Hair
Add a Comment
Please
log in
to post a comment