Vote Now for the 2008 Stinque Awards!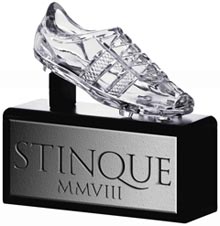 The 2008 Stinque Awards for Achievement in Infamy are dedicated to Muntader al-Zaidi for Throwing Truth to Power. In honor of Mr. al-Zaidi's world-historical service to the vituperative arts, this year's award is a handsome Crystal Shoe created exclusively for Stinque by 24-Hour Novelties & Box Wine SuperStore of Tarzana, California.
Our categories were proposed by Stinque readers during an exhaustive nationwide search, and finalized upon receipt and tally of favors financial and carnal. Nominees may be proposed in the comments; winners will be announced next Monday during a gala ceremony broadcast live from atop the Stinque Executive Washroom.
Crystal Douchebag for Lifetime Achievement
Golden Anal Pear for Asshole of the Year
Platinum Pampers for Best Sex Scandal
Diamond Freezer for Best Scandal Not Involving Reproductive Organs
Palladium Pinnochio for Best Human Prop in a Supporting Role
Mylar Gasbag for Best Wind Broken by a Pundit
Silver Tongue for Excellence in Pandering
Silver Sausage for Legislative Accomplishment
Le Prix Trudeau for Best Un-American Politician
Golden Helmet for Best Hair
Update: After pie riots broke out among the Nominators, the Board of Governors has hastily created Technical Awards for candidates who don't quite fit the Ten Major Categories. Bear in mind that since the Stinque Academy of Infamy could afford only ten Crystal Shoes, technical winners will receive Fuzzy Bunny Slippers with a quickly scribbled tag.
Add a Comment
Please
log in
to post a comment