Christokleptcy Plagues Nativity Scenes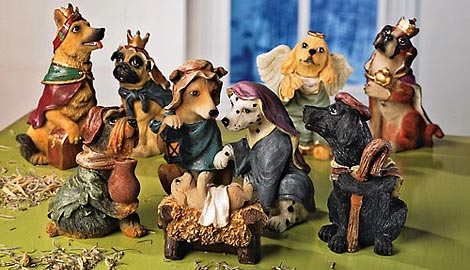 A wave of unacknowledged miracles is sweeping the country, as untold numbers of Baby Jesuses are walking away from the nation's nativity scenes. But rather than recognize God's wrath against scientists for attempting to reschedule the virgin birth to June, officials are conspiring to attribute the disappearances to common thieves.
A rundown of the latest shocking reports:
Perhaps the most unsettling development is the lack of faith displayed by nativity landlords: Instead of relying on the power of prayer to get Jesus back in the crib, they're resorting to tagging the King of Kings with GPS devices.
Dog Nativity [Collections Etc.]
Add a Comment
Please
log in
to post a comment