Talibunny Tabernacle Torched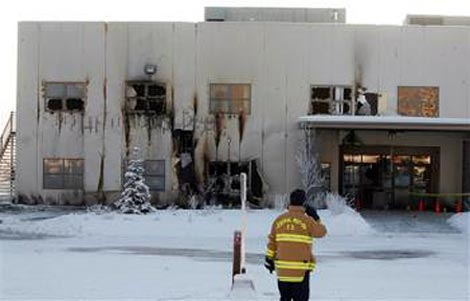 Sarah Palin's Wasilla Bible Church, also known as a welcoming place where homos can learn how to get boners for chicks, suffered $1 million in damages following a suspected arson fire Friday night. Nobody was hurt, although five women and perhaps two children were inside when the fire broke out.
Local fire chief James Steele declined to speculate on a political cause for the blaze. "Right now there's no indication that we have that there's any connection there," he said. "We just don't have any leads at all as far as the intent or motive in this."
Talibunny fansite Team Sarah quickly sent out a cautiously worded email, and is keeping anxious groupies informed about their moose-sacrificing savior:
While the media are basically treating this as a non-story giving it little air time, and there is no Drudge Siren, the good people at Team Sarah, at www.teamsarah.org are staying on top of all news related to this story and you can be sure, no stone will be unturned!
Wasilla Bible Church earlier drew criticism for promoting a conference organized by James Dobson's Focus on the Family, which promised to "help men and women dissatisfied with living homosexually understand that same-sex attractions can be overcome." It is not known how many other churches have spontaneously cumbusted in Palin's or Dobson's wake.
Possible ARSON At Sarah Palin's HOMETOWN Church [Team Sarah]
Add a Comment
Please
log in
to post a comment