It's the Water, and a Lot More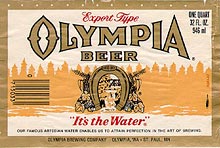 You'll pardon our very Seventies and very Northwest reference to a popular beer jingle. Because beer jingles remind us of Jingle Bells, and Northwest Jingle Bells lead to this:
Three signs that criticize atheism went on display near a Nativity set Friday, the same day someone stole an atheists' engraving that had been placed nearby. The atheists' placard celebrates the winter solstice and criticizes religion as myth and superstition — wording that has enraged some Christians and even irritated Gov. Chris Gregoire.
That would be the display at the Washington State Capitol in Olympia, which has given Bill O'Reilly fuel for his annual Holiday Bloviation Celebration ("It wouldn't happen in California with Schwarzenegger") during a traditionally slow news month. Sponsored by the Freedom from Religion Foundation, the sign reads in part, "There is only our natural world. Religion is but myth and superstition that hardens hearts and enslaves minds."
Not that we disagree, but we've always been wary of organized atheism. What's the point of freeing yourself from spiritual tyranny just to continue obsessing about it? There's nothing worse than a convert.
In any event, the solstice sign is back with a new "Thou Shalt Not Steal" sticker on it. Yet amid all the pointed pointlessness, state employee Jim Buenzli is celebrating the spirit of Evergreen State College alums Lynda Barry and Matt Groening: He's applied to display a Festivus pole.
Add a Comment
Please
log in
to post a comment