Chuck Norris Does Not Sleep. He Waits.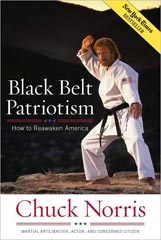 Title: Black Belt Patriotism: How to Reawaken America
Author: Chuck Norris
Rank: 1,447
Blurb: "Martial arts master, actor, and political activist — there is no job Chuck Norris can't do."
Review: "Great book by a great Patriot. I bought it for my grandson who is in first year high school. I know he won't learn anything true about America in the federally funded schools who get their orders from the ungodly United Nations. America's only hope is a divine intervention."
Frequently Bought Together: "Black Belt Patriotism", "Sarah: How a Hockey Mom Turned the Political Establishment Upside Down", "Fleeced" by Dick Morris
Footnote: There is no theory of evolution. Just a list of creatures Chuck Norris has allowed to live.
Black Belt Patriotism: How to Reawaken America [Amazon]
Buy or Die [Stinque@Amazon kickback link]
Add a Comment
Please
log in
to post a comment