Pestorking Palace Faces Foreclosure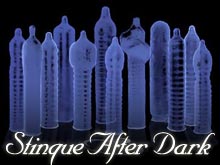 With our economy in a shambles, you would think innovative home businesses would be encouraged. And by all accounts, the Dallas-area Cherry Pit has been a roaring success:
Police documents seized in a pair of July raids show that the weekend parties in the home were lucrative. Mr. Trulock and Ms. Norris had taken in at least $102,000 in donations from attendees during a 16-month period. The weekend parties drew hundreds of people, and parking overflowed into the street.
College kegger? Hardly. The Cherry Pit is a "swingers" club, a quaint throwback to the days when you could use that word without erupting in an orgasm of giggles. For fifty bucks you can cross the threshhold into a world of bad Seventies midnight movies, featuring a dance floor, profoundly well-stocked bar, and a six-way bed with what appear to be fresh sheets. Single gals welcome!
But rather than celebrating the owners' entrepreneurial spunk, the city of Duncanville has turned a cold shower on the enterprise. A 2007 ordinance outlaws the bawdy bastion, and legal troubles have been piling up all fall. Now the home itself is facing foreclosure, and the owners are trying to raise money from investors.
We think it would be a grand opportunity for Dallas's newest power couple to meet their neighbors. After all, the Cherry Pit is freeway close to Dubya's new home.
Add a Comment
Please
log in
to post a comment