Low Dudgeon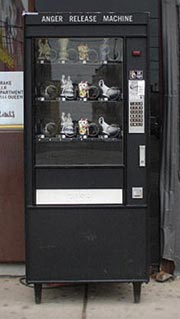 We think we're supposed to be outraged:
They've come in the form of a burning Book of Mormon, shattered glass doors, mysterious white powder, graffiti and even a flaming plastic plant. A recent rash of crimes has swept churches along the Wasatch Front and peppered areas of California since Proposition 8, backed by the LDS Church, banned gay marriage there.
Bearing in mind that no evidence yet ties these events to opponents of Prop 8, the fact is, if the roles were reversed, we'd be all over it. Especially in those cases where symbolism crosses over into violence and intimidation. Hey, we thought the WTO kiddies in Seattle were idiots.
But honestly: We don't have it in us to condemn. We don't condone it, we think it unwise — but we can't find our anger.
Where did it go?
Perhaps it got lost in all the chatter about Prop 8 as a "social issue." It is not. Prop 8 was about denying human rights to citizens of California. It was about breaking up families. It was not a complicated issue about which reasonable people can disagree. It was legalized bigotry.
And that's where we find ourselves disagreeing with Andrew Sullivan, who calls for a "political" solution instead of a legal one. We accept that an overwhelming vote against Prop 8 would have made a stronger statement than a state supreme court decision. But we find it abominable that one group of citizens should ask the rest for permission to marry. If rights are subject to plebiscite, they aren't rights.
So we'll leave it to others to be outraged by citizens expressing their resentment at their treatment by the Magic Underoo Cult. Meanwhile, we'll enjoy our fantasy that maybe, just maybe, the Mormon church will someday be denied the privilege to indulge itself in tax-exempt bigotry.
State investigating Mormon church aid for Prop 8 same-sex marriage ban [AP/San Jose Mercury News]
Image: Passive Agressive Anger Release Machine [today and tomorrow]
Add a Comment
Please
log in
to post a comment