Fingernail-on-Girl Action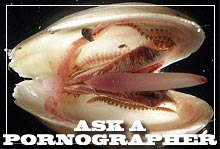 Be the first in your prayer circle to know! Send your questions to iporn [at] stinque.com
What's up with the girls who have really long fingernails and do lesbian scenes? Doesn't that get scratchy?
It's a psychological trick. They want to telegraph to the dudes that the girls are not really lesbian, so that low esteem guys don't feel threatened. After all they want them to think that the girls might pleasure each other once in a while, but obviously they prefer cock. As to the scratchy issue, they put so much lube in the ladies before those scenes that you could probably stick a cheese grater up there without any irritation.
What's the new thing going on in porn? Do they have any plans to expand their market?
Funny you should ask. AVN, the industry trade rag for porn, just published an article about this last month. It seems that the porn industry figures that the American and European marketplaces are so saturated that there isn't that much more room for growth, so they are targeting emerging markets these days.
So, what are the emerging markets for porn? China, India and the Middle East. The problem, of course, is that all three of these regions have strong legal and cultural taboos against pornography and in some of these countries you can get beheaded for looking at it. In addition there is generally a tradition of censorship and government monitoring in these regions.
That means that in general, people in those countries aren't that comfortable entering their name and credit card information no matter how much they crave cock and pursue pussy.
Fortunately the porn industry has found a way around this. In all of these countries pay as you go cell phones are very, very popular. So, they've created technology that allows people to pay for porn anonymously with the credit on their cell phones. Subscribers from these areas will also be offered software that masks the URLs of the sites they are visiting, so that even though they are watching asseatingtrannydwarves.com it will look to anyone monitoring them that they are actually looking at a government new s site.
As they said in Jurassic Park, "nature will find a way."
With the advent of places like Xtube and Red Tube is the DVD side of the industry suffering?
Nope. The multi-million copies of Pirates 2: Stagnetti's Revenge demonstrate that people will still pay to watch porn. Xtube and Red Tube don't hurt DVD sales for the same reasons that You Tube showing scenes from mainstream movies doesn't hurt DVD sales.
Sure on Red Tube you can get a 10 minute porn clip on your computer — but it's going to be small and, if you blow it up to the size of your screen, fairly grainy. People still like to watch porn on their televisions with decent sound. Also, it's way easier with a DVD to fast forward through a scene you don't like and get to whatever your filthy mind desires.
Beyond that, most porn isn't really purchased. It's rented and DVD rental places will always need to have new product to keep the jerk offs entertained.
Why is "women-friendly" porn always so fucking boring and pink and fluffy and romantic and the guy practically turns up on a white horse and only fucks her gently and respectfully and with tenderness and no sex-appeal whatsoever for those of us who like it hard and fast?
Because people suck.
If you make movies where the dude ravages the babe hard and fast you get idiots complaining that it's objectifying women and that you are a horrible human being for making the film.
Then, you try to make it romantic and you get idiots complaining that it's not hot.
At the end of the day the hottest sex will almost always be boundary crossing and borderline offensive. As a wise man once said "Sex is only dirty if you are doing it right." But, when you depict boundary crossing stuff it's going to piss peo ple off, so there will always be some market pressure to produce stuff that doesn't cross any boundaries.
I sorta feel like the fluffy romantic porn is a good thing, because it can help people get comfortable with the idea of watching porn in a non-threatening way, so that they feel less guilty when they finally build up to renting "Weapons Of Ass Destruction 6"
Think of it as porn training wheels.
Add a Comment
Please
log in
to post a comment