No More Mr. Nice Gay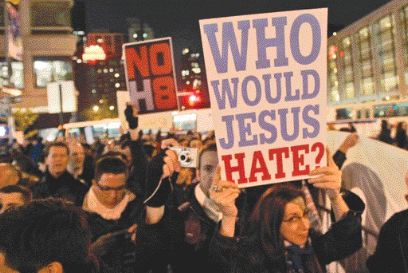 Okay kids.  The Mormon Church sucks balls (and not in the good way) for giving all of their time and money to pass Prop H8 in California.  As covered earlier, they just don't understand why we would be so pissed.  But pissed we are, and we don't have to fucking explain it to them and now we are going to try to make them (literally) pay.
Although if you would like to watch a fun video that explains our side pretty well, I will direct you here to watch Dan Savage eviscerate Tony Perkins.
So if you would like to file a Tax-Exempt Organization Complaint with the IRS in the effort to revoke their tax-exempt status, just go to this website, print out the Pre-Filled IRS Form 13909 and the Official LDS Prop. 8 Letter as supporting documentation, fill in your information, and send it off to the taxman.
For your service to the Homofascist Army, there will be 37 hot, horny and hung virgins awaiting you in gay heaven.  Er…for those of you who are into that kind of thing.
Add a Comment
Please
log in
to post a comment