Victory Pestorking!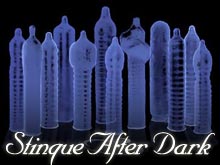 Although there's yet no evidence of couples seizing the moment Tuesday night at Grant Park, it's looking like America will experience a baby boomlet next summer:
Contributors to Twitter, which allows users to post brief alerts about what they were doing, deluged the site with reports of their election night passions, prompting others to speculate that maternity wards in blue states would be unusually busy in nine months time.
Not enough detail? We're here to serve:
"I watched Obama's acceptance speech, heart — and loins — swelled alike," wrote Mia on the breakupgirl.net blog. "My loving man gave my hand a squeeze, and I was filled with a wondrous, deep and primal desire to embrace him and celebrate life. And even — now that we have a prayer of creating for them a worthy world — to make life, to make babies."
Heck, Barry's election may even solve the Idiocracy Dilemma:
"That's it. My fiancee and I will have to wait until 2012 before we start to have kids," wrote a commenter, presumably Republican, on one blog. Another wrote: "I'm getting an Obama vasectomy. I can't afford his tax hikes and another kid."
We can only hope the Republican base follows that noble example.
Add a Comment
Please
log in
to post a comment