Dirty Jobs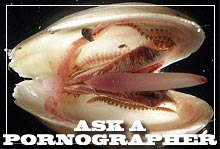 Here in Stinque Land, we're lowering the level of discourse one post at a time — and today will live in infamy, with the first installment of our new series, Ask A Pornographer. We're going to start off slow, asking him a few get-to-know-you questions. Then get ready, Stinqueroos, because we're opening up like a glistening flower for an unruly pounding of the hardest questions you can give us for him to answer next week.
Lower the lights, put on some mood music and join us after the jump.
What kind of porn do you write?
I write pretty much whatever the client wants. I'm happy to do gay, straight, bi and fetish stuff. The gay work tends to pay better, because there are less dudes willing to write it. Every straight writing major at Harvard wants to get paid to write teenage lesbian porn, but they don't want to think about dudes with dudes. For me, it's really no big deal either way.
That said, there is some stuff I won't do. I've turned down jobs for K9 and necro porn, on the basic assumption that the neither dogs nor the dead can reasonably give consent.
For the most part, I end up writing erotic stories and ads/reviews for escorts. The escort review system is weird, because it's set up just like Amazon and the dudes take it really seriously. So, when I go to do it I'll have to take a close look at the girl, see her list of what she does and doesn't do and then read a few reviews other dudes have written to get a sense of what she's like. Then I have to create a new narrative of what my experience with her was like. Try doing that for 10 girls a day.
With the dude escorts it's even harder because the range of what they do and won't do is more complex. With the girls it's just a matter of "do they make the dude wear a condom for blow jobs" and "will they do anal." With the guys it's like "do they top only," "do they bottom only," "are they versatile," are they "straight-acting," and do I have to describe how big their dick is or is it more important to describe how tight their ass is. A lot of it is that gay dudes are much more discriminating about their escorts and tend to be looking for very specific things. Straight dudes are just looking for pretty girls who give head.
What's your research like?
I hit up ASSTR.org whenever I get a new fetish. You can search there for a ton of stories on any kink you want and learn all the lingo. People into porn, particularly fetish stuff, are very particular about the words they use to describe the shit they want to think about doing. If you blow the lingo, you lose the readers. Literotica is also a good place to research, but it seems to run a bit behind the times on some fetish stuff.  To keep up with trends, I read AVN News and Fleshbot.
What's the weirdest porn you've ever come across?
I think that's generally a matter of opinion. I could name some really fucked up shit, but for me personally, I find the dudes who like to watch women blowing up balloons to be really weird; other people would argue that it's "better" because it objectifies the balloons instead of the women. I think "crush" porn is fucked up, because while I'm no fan of cockroaches I can't imagine wanting to masturbate while they are getting smashed. But the thing to remember is that porn is supposed to be weird. There is always a sense of boundary crossing in any good porn.
How do the actors do those anal shots so easily?
This is the question I've been asked the most in porn. In real life, you have to enter the receptive partner's backside fairly slowly or you risk pain or other problems. Also, you usually need lots and lots of lube, which you don't see in porn. The answer is that a lot of anal sex scenes are all about special effects. They have specially made water pistols that look like penises that are made to be super slippery. Plus, they pre-lube and stretch out the girl before the scene with butt plugs and such. In some cases they even have fakes assholes. So, what you may be seeing is a girl moaning while a cock shaped water pistol is going in and out of a rubber anus somewhere in her general vicinity.
(Send your dirty questions to iporn [at] stinque.com)
Add a Comment
Please
log in
to post a comment