Oh My …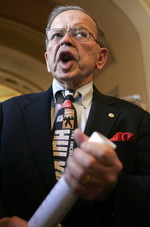 I'm sorry, but I'm really enjoying this.
The first public poll of Alaska conducted entirely after GOP Sen. Ted Stevens was convicted on all counts in his corruption trial shows a probable Democratic pickup in this deep-red state — but Stevens is doing surprisingly well for a newly-minted convicted felon.
Call me a bad person, but this is fun.
The new numbers from Rasmussen: Dem candidate Mark Begich 52%, Stevens 44%, with a ±4.5% margin of error. Three weeks ago, Uncle Ted had taken a 49%-48% edge over Begich. So apparently getting convicted of a felony a week before the election can be quantified as taking five points off of a candidate's poll numbers.
More after the jump.
Even the Talibunny (and, presumably, Joe the Plumber) wants him gone.
And those Republican leaders aren't the only ones calling for Stevens' resignation. The poll also shows that 52% of likely votes want Stevens to resign — the same percentage as those who say they're voting for Begich.
The only thing that could make this better would be Liddy Dole getting knocked off.
Add a Comment
Please
log in
to post a comment