God Exists And She Loves Me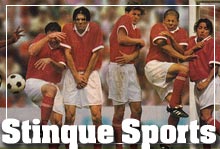 NHL presser: Palin to drop puck at Oct. 24 Blues game. Worked so well the last time, so why not try it again?
The comedic possibilites of this are inherent, of course.
A: "No worries about shelling out long green for a Blues jersey. The RNC's got it under control."
B: "If Piper's waving an Alaskan flag, does it qualify as state business?"
C: "Do you think that, after the indignity of seeing the Cubs and the Brewers make the playoffs, Blues Fan is going to get upstaged by Philly Fan?"
D: "Jenny MacDonald, a third grader at Polk Elementary School in Clayton asks this question: 'What does a linesman do?'" [Answer, obviously: the linesman runs the game.]
E: [PA, intoning] "Penalty on Sarah Palin — two minutes for unsportsmanlike conduct, at 5:29. Palin, two minutes for unsportsmanlike conduct, at five minutes, twenty-nine seconds."
Where should I go with this? I put it to you, Stinquers.
Add a Comment
Please
log in
to post a comment