Nut Of The Week Nominee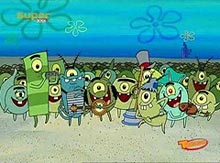 Blogenfreude said yesterday that he doesn't have the stomach for Free Republic. (Manchu said so too, as did everyone with a brain.) There's a reason for this, per a posting on the "Obama's Grandma Isn't Really Sick" thread:
He has no birth certificate. And his grandmother will mysteriously die while he is there. You know she holds secrets that cannot be revealed……

"Here, Grandma, let me put this pillow over your head. Nice grandma"
And the whole "Andy Martin Knows Everything" train of thought(?) is present, as is the idea that he is just doing this to prevent criticism.
Oh dear. Looks like there will be another card-table with literature outside Geezer's rallies. If you go, tell the "she's totally faking it" crew that Chicago Bureau says (a) "hi" and (b) "fuck you."
Add a Comment
Please
log in
to post a comment