Cat Stick Urges Calm for Troubled Nation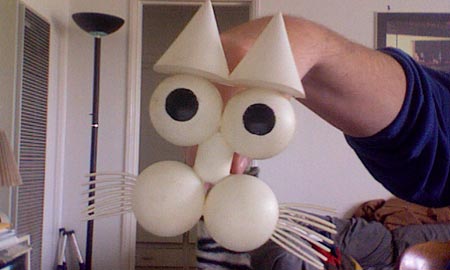 We were going to convene a roundtable discussion with Yoda Pez and Cat Stick on the pressing issues facing our Republic, when we realized at the last minute that Cat Stick doesn't talk. He just stares at you with those imploring eyes, asking Why? Or Think Again. Or maybe I'm Hungry. It's really hard to tell.
One thing's for certain: Cat Stick has a First-Class Temperament. In the twenty-five years we've known him, that expression has never changed. Cat Stick doesn't blink.
For example: "The Dow dropped eighteen percent in a week! What in god's name are we to do?"
Silence.
Or: "McCain is dragging the country towards fascism! How on earth can we stop him?"
Crickets.
It took us years before we understood Cat Stick's wisdom. We treated him as a Magic 8 Ball, and we mistook his reticence as a call to inaction. We got very angry with him. We wanted answers, dammit.
And then one day, frustrated beyond hope — it might have been the new White Lion video — we decided to just stare back. Hard. Minutes passed. Our eyes watered. Finally, we had to look away.
And that's when we realized: Cat Stick wasn't looking at us. Cat Stick was looking beyond us — at the world. Cat Stick was taking it all in.
Suddenly it was clear: You have to see the world for what it is before you can work to change it. Cat Stick was telling us to take a good hard look for ourselves, and come up with our own answers.
Or maybe he was hungry. It really is that hard to tell.
Add a Comment
Please
log in
to post a comment