Flee!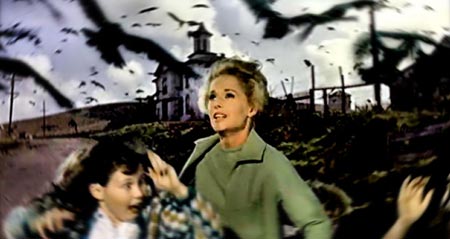 We can't decide whether the birds represent questions and Tippi is Talibunny, or whether the birds are Talibunny's answers and Tippi is us. Either way, grab some potent potables, because we're all playing Jeopardy in tonight's VeepSqueak Liveblog/Open Thread/Suicide Pact!
As usual, the rules are simple: Find every excuse you can to drink. You'll be better off tomorrow with a hangover instead of the soul-destroying realization that she could be President in four months.
And no, we haven't forgotten Plugz. We're just ignoring him. Like the rest of America.
Smokes and beers at the ready…
8:49. Apparently Elisabeth Hasselbeck is displeased with Talibunny's interview performance. So Keith and Howard are discussing. What frightens us is that we're used to this by now.
9:00. Whenever we step into a room, we want Keith Olbermann to announce our arrival.
9:02. Gwen Ifill wears blue, betraying her prejudice towards Democrats.
9:03. Talibunny: "Hey, can I call you Joe?" No. No you may not.
9:04. Joe Biden's forehead was featured in a classic Star Trek episode, but we can't remember which one.
9:05. The Sarah Palin Folksy Anecdote Meter starts at 1. Soccer moms!
9:08. Sarah winks! Drink!
9:10. Folksy Anecdote Meter: 3. (add Joe Sixpack, Hockey moms)
9:13. Those wifi teleprompter glasses are working really well.
9:15. As mayor, Palin raised sales taxes to make up for reduced taxes elsewhere. Joe?
9:18. "In the middle class of America, where Todd and I have been all our lives…" What's that personal wealth number that came out today? How many millions in the Talibunny homesteads?
9:21. Plugs drops the "bridge to nowhere" line he's been hankering for.
9:24. Damn, that beer went fast.
9:27. "It's a toxic mess on Main Street that's affecting Wall Street." That's right, Sarah —it's those damn greedy bastards who took the cheap loans who should be hung, not the innocent souls who offered them.
9:32. Something something something what Kyoto Protocol something something something.
9:36. Gay marriage! Excuse us for a moment while we strap in.
9:39. We all hate fags! Yayyyyy!
9:43. We have a sudden urge to buy Tupperware.
9:45. When the election's over, Plugs & Geezer are doing a roadshow of The Sunshine Boys.
9:48. We don't think Plugz has yet said "Ladies and Gentlemen". We're impressed by his discipline.
9:50. SLOW DOWN THE GODDAM IRONIES. We're having a hard time keeping up.
9:52. Israel is a peace-seeking nation? Did we miss the memo?
9:55. Seven major ironies in 30 seconds. How does she do it? Oh, that's right: She lies.
9:59. Two beers down, one left in fridge.
10:00. And at the one-hour mark, we believe Palin has maintained subject-verb agreement throughout. She's beating the odds!
10:07. "John McCain, who knows how to win a war." Ummm… which one?
10:09. WINK #2! Okay, maybe we missed some. It's hard to look.
10:11. We haven't even tried to count the small towns Joe's racking up.
10:12. AND THERE'S THE RONNIE LINE! "There you go again, say it ain't so, Joe." Only, um, it doesn't really play. Must be the delivery.
10:13. Folksy Anecdote Meter: 4. Hey third-graders, just crib Wikipedia! That's how you get ahead!
10:14. "John McCain has already tapped me." We knew it!
10:19. "Shining city on a hill." Does Peggy Noonan still collect royalties?
10:21. Joe: Was that choke-up about the accident rehearsed? (Update: Probably not. He's not a good actor.)
10:22. We're not bothering with a "maverick" count. We're sure Olbermann's got an intern on it.
10:24. Joe coins a new verb: "to maverick". John's not going to maverick this, John's not going to maverick that. We love language!
10:27. Dick Lugar, Mike Mansfield. Plugz and Geezer should get together and see who can drop the most wonky names.
10:29. "I like to answer the tough questions without the filter of the mainstream media." What? Katie dubbed her voice?
10:32. Eugene is nothing like Scranton. Trust me on that.
10:33. And Joe gets the closing God shout-out. That's all, folks!
Add a Comment
Please
log in
to post a comment