The Talibunny Liberation Front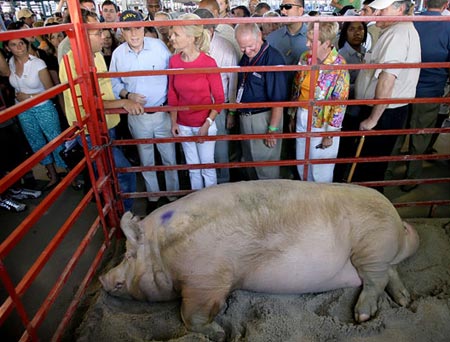 We've been giving Geezer's Rovian Henchmen the benefit of the doubt — they know the pig and the lipstick — but near as we can tell, those crazy kids at the National Review Online must be smoking their own stash.
How else to explain the fact they want Talibunny to debate Thursday night?
In their world — which bears a striking resemblance to this one, but the letters are reversed — the problem is not that Sarah Palin talks, but that she doesn't talk enough. And she never talks in her own words, but tries to regurgitate the worms her handlers have been feeding her.
If only those Evil McCain Advisers would Let Sarah Be Sarah, we'd all be rejoicing in the silk purse of her folksy wisdom, instead of dreading the sow's ear of her postrational grammar.
Curiously enough, the woman leading the charge — NRO's Kathryn Jean Lopez — has never met Palin. She only has the same pre-nomination YouTube clips the rest of us have been enjoying, plus the scripted entertainment that has America on the edge of its seat (where it's easier to reach for the bag). We'd call her "naive," but that's for the innocents. She's ingenuous.
McCain's Rovians, on other hand — they're evil, but they're professionals. They know Palin. And we suspect they know what they're doing.
Add a Comment
Please
log in
to post a comment