Tomorrow's Spin Today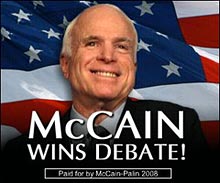 No joke — this ad appeared on the WSJ website this morning. But before you jump to conclusions, it obviously refers to the debate within the McCain campaign whether to forsake America in its time of need, or stay in Washington until the job gets done.
Guess who won.
Liveblog/open thread/pity party starts here at 8:40 p.m. Eastern.
McCain Wins Debate [WaPo]
Add a Comment
Please
log in
to post a comment