Looks Like We Picked the Wrong Week to Quit Campaigning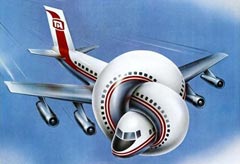 Good fucking lord, can't we get any work done around here without a crisis erupting every hour? We were quite happy to let things slide while we caught up with the paying customers, but we didn't expect them to fall off a cliff. Given the circumstances, we're left with no choice but to resort to The Link Dump From Hell:
Psychogeezer checks into rehab: Proving once again he's not afraid to take bold steps in a crisis, John McCain concedes the presidential race five weeks before the election. We look forward to watching Barry debate a cardboard cutout Friday night. Not that we expect anyone would notice the difference.
Talibunny goes meta with Katie: "Oh, well, some decisions that have been made poorly should not be rewarded, of course." We've been saying that since the day McCain chose her as his runn— oh, wait, she's talking about the bailout. Sorry.
If we lose Buffett, we've lost America: Warren puts up $5 billion for Goldman Sachs, but he's sorry he's short $695 billion to cover the rest. "This is sort of an economic Pearl Harbor we're going through," he tells CNBC, leading us to wonder whether Gore Vidal is crafting a fresh conspiracy theory.
We're shocked. Shocked!: Clay Aiken comes out, and all he gets is a People retread cover.
That enough to keep you occupied? Because if you need more, North Korea is going nuclear again. Although the way things are going, we doubt there will be much left worth bombing.
Add a Comment
Please
log in
to post a comment