That Would Be Up the Butt, Bob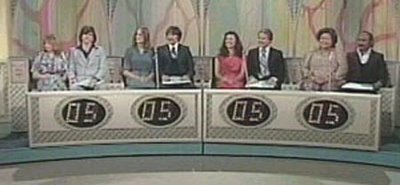 Our apologies — we were taking notes for two separate posts, and somehow we got them mixed up. We hope you can sort them out.
"The more that homosexual activists wave their hijacked marriage licenses in people's faces, the more people will say, 'This isn't right… What can I do about this?'" said Randy Thomasson, the founder of the Campaign for Children and Families.
"One of the things that have hurt the gay effort in California is the exhibitionism in San Francisco," which doesn't always play well elsewhere, said political analyst Tony Quinn.
"It's a weird subject," added [Kendall] Hamilton, 39, who plans to wed his partner of five years, Ray Paolantonio. "We want everybody to be free, but the image does matter… They are going to try to make us look like freaks."
A pack of scary bridezillas took over New York City's Times Square this week in the hope of winning $25,000 to put towards their weddings. Dressed in bridal gowns and veils, ten contestants clambered up a 10-foot cake, complete with 50 gallons of buttercream icing, in a bid to be first to the top.
Anyway, as we were about to say, anything that undermines the sanctity of marriage is an abomination and should be outlawed.
Bridezillas take over Times Square [Marie Claire]
Add a Comment
Please
log in
to post a comment