Wouldn't You Like to be a Cylon, Too?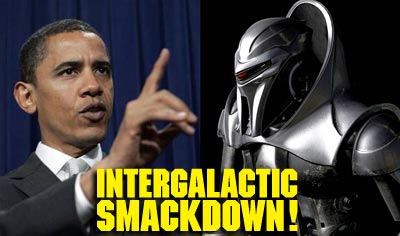 Programming note: Today's episode of Battlestar Democratica begins at 9:30 a.m. Eastern, when we finally learn whether the renegade Floridian and Michigonia ships are allowed to rejoin the ragtag fleet, and perhaps are shown further clues to the remaining silicon-based life forms in the DNC.
As much as we'd love to watch Donna Brazile kick ass and take names, the Sandy Eggo Bureau has a strict policy not to open its doors before noon on weekends, and plans on waiting for the DVD to show up at Netflix.
Photo: Barack Obama (left), Hillbot 9000
Add a Comment
Please
log in
to post a comment