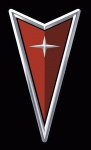 Because none of you bothered to get up off your asses and buy a Solstice or a G8, GM's "excitement" division will go the way of Oldsmobile and Plymouth:
Pontiac is a brand of automobiles produced since 1926 and sold in the United States, Canada and Mexico by General Motors (GM), marketed as an "athletic" brand specializing in mainstream performance vehicles.

On April 27, 2009, amid ongoing financial problems and restructuring efforts, GM announced that it would phase out the Pontiac brand by the end of 2010 and focus on four core brands in the U.S.: Chevrolet, Cadillac, Buick, and GMC.[1]
In my opinion it was badge-engineering that killed Pontiac (an Impala is a Catalina is an Olds 88 is a Lesabre is a Sedan de Ville).  Why buy a car from Pontiac if Chevy offered the same car for less money?