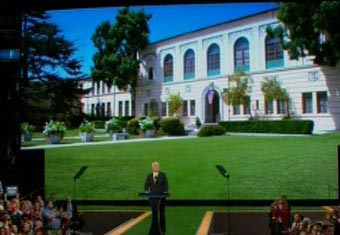 Looks like Nancy Wilson will have to get in line, because "Barracuda" ain't the only thing the Geezer stole last night.
As he spoke, a number of images appeared on the Plasma of Liberty behind him. And the folks behind one those images aren't happy.
TPM has been following the big story all day: a photo of a white building wasn't Walter Reed Medical Center (as presumed), but Walter Reed Middle School in Los Angeles.
"Permission to use the front of our school for the Republican National Convention was not given by our school nor is the use of our school's picture an endorsement of any political party or view," said Principal Donna Tobin.
California dems are staging a press conference there any moment.
Meanwhile, second-string scandal-monger Daily Kos has identfied at least four photos from the Geezer's video intro that came from an online stock-photo agency. (Good shots, good prices — we use them all the time.) What the Kos Kiddies find intriguing about the selections is that they feature black people, who otherwise were MIA during the convention.