Darkness at Midnight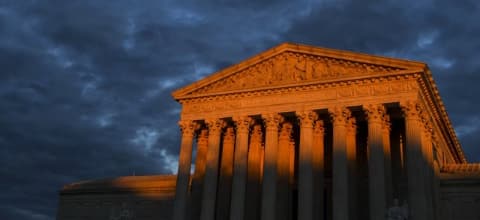 And so we end as we began, with a stolen Supreme Court seat.
Had American governance worked as Americans expect it to — or used to — the ideological balance of the Supreme Court would have remained unchanged at this point, two replacements and a third to be named next year, pending this election's victors. Perhaps a Republican president would be forwarding a nomination to a Democratic Senate, or the other way around.
Of course, the other way around at this point would have meant three unfilled seats by now, had GOP senators carried out their threats against President Clinton, and we'd be enduring earnest discussion whether six seats was, y'know, enough.
Instead, the Endgame is upon us.
By the end of the day Monday, perhaps no later than Tuesday, Republicans will be poised to complete their long-term goal of turning the United States into a tyranny.
It's not that abortion will be outlawed, or Obamacare, or hundreds of thousands of marriages, although all are possible in the nearly three months remaining until Inauguration. Great harm will have been done, but much of it can be undone.
Instead, it's that the election may turn — as it has before — on the Supreme Court siding with power against justice. Atop all the voter suppression we've seen to date, one adverse ruling regarding, say, Pennsylvania, might be enough to throw it.
And then we're finished. Not because America sought a tyrant, but because it was deliberately and methodically saddled with one. A significant minority of citizens will have completed its goal of wresting enduring power from the majority.
Tyranny, not by a small cabal of miscreants seizing the reins of government, but by half of white Americans ensuring that their historical unjust dominance over the rest of us remains unchecked for the foreseeable future.
At which point… well, we dunno. We've been wondering about this moment for a long time, the moment when Republicans go for broke, the moment when years, decades of warnings becomes real.
The might of possibility has never sat well in this land, at least regarding real threats, and not stuff like Red/Yellow/Black/Brown Menaces sure to take our wimmen and indoctrinate our chillun. We had to be badgered into both World Wars. We still can't bring ourselves to do anything significant about Global Warming, although that reality is now upon us. And while you can shout all you want about what a tyranny-minded Supreme Court might do, is likely to do, until now, in large part, it hasn't done it yet.
What a difference three months can make.
What happens if it does?
What happens if the rulings come down, and — because the first stole the election itself — there's no hope for redress, no hope that Uncle Joe will hem and haw and appoint his commission of ameliorists, and finally, regretfully, set things right?
What do people do? What do we the people do?
We don't know. Not a fucking clue.
Except for one thing.
It's a lot harder to take to the streets in the dead of winter, folks.
Add a Comment
Please
log in
to post a comment