The Thick Blue Line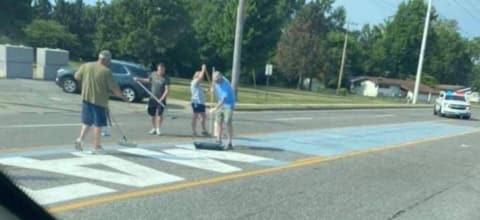 We thought we were going to talk about Tulsa.
There's a lot to say about Tulsa. How it was supposed to be the Tyrant's triumphant return to public life. How he would once again ramble on before an adoring crowd. How it was originally deliberately scheduled to step on Juneteenth, in the city where a racist massacre happened a century ago. How his campaign hyped the registration numbers, which were wildly inflated by kids monkeywrenching the online signup. How, in the end, the 19,000-seat arena was only a third full.
There's a lot to say, but we didn't know where to start.
And then we saw this photo.
"Police in Florissant, Missouri, protecting people while they paint a blue line over a BLM street mural," reads the caption.
That's not quite what they're doing.
Specifically, what they're doing is this: Covering the large block letters of BLACK LIVES MATTER with blue paint.
The blue, of course, representing the police.
As antifascist commentary on a recognizable subset of citizens using state violence to obliterate another recognizable subset of citizens, you can't do much better.
As antiracist commentary on whom the police serve in a community — and whom they do not — you can't do much better, either.
As an illustration of why the police as an institution needs to be defunded, if not abolished and reconceived from the ground up, well, that's pretty much it: This is what police have become. Some folks will say this is what they've been all along — and show you the receipts — and we're only just noticing it now, those of us who haven't been subjected to it since birth.
And they wouldn't be wrong.
We can't just do it that way, of course. We can't just rip out the police by the roots and wait a year or two for something different, something better, to take their place. Our ship is at sea, and we need to stay afloat while getting it into drydock.
You can recognize this. You can acknowledge this. You can see the necessity of replacement while understanding the difficulty involved. Unless that's not what you want to do, in which case you concoct a ton of excuses why we shouldn't even try.
You can just paint over the problem and consider it solved.
We were going to talk about Tulsa. We were going to talk about the cracks in the edifice, how maybe, just maybe, the Tyrant won't be able to steal two elections in a row.
But the problem isn't the Tyrant, it's the tyranny. It's the people who enable the tyranny, people who over generations have built an edifice that perpetuates it, how the tyranny will remain after the Tyrant is gone.
Donald Trump isn't the cause of our problems. He's the result of them.