Insane Cunt in Chief Trump Takes a Can of Construction Marking Paint to His Face and Dresses His Hair With Lacquer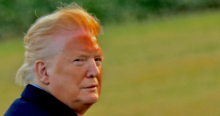 In an apparent terminal mental melt-down, big fat Kremlin call girl Donald Trump has taken to making up his face with a can of construction marker paint and combing his hair with furniture lacquer.
Trump, deeply drugged, walks in slow motion around the White House babbling threats to avenge slights against his royal prerogative to destroy the universe by a growing list of perpetrators that include the parking attendant at the Russell office building that houses the Senate staff and his fourth grade English teacher.
The White House staff have taken to carrying walkie talkies to warn each other of Trump's movements to avoid encountering him and having to receive his orders to behead someone or to bear his child.
Chief of Staff Mick Mulvaney calls these days the 'Moe! Larry! Cheese! phase' of the Trump Administration and spends inordinate amounts of time trying to convince staffers to carry their tassels with them at all times.
Add a Comment
Please
log in
to post a comment