I'm OK Boomer, You're OK Boomer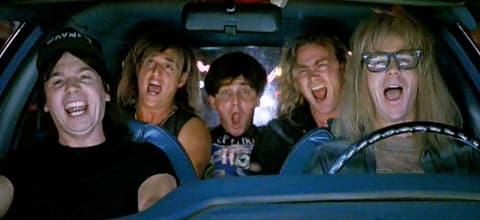 We've hated our generation since Disco.
You need to understand this about us, the resentment we've harbored for kids our age from the moment kids our age were swept away by Saturday Night Fever. You need to understand this about that moment, that pre-Internet moment, that pre-cable moment, when there was no escape from what everyone was watching and listening to.
The previous generation got the Beatles. We got stuck with the Bee Gees.
Don't call us a Boomer.
The Draft was gone before we reached Draft age. We had lived through the Oil Embargo before we could drive. There was no JFK in our conscious life, and barely an LBJ, but we did have Nixon to kick around. All the Boomer touchstones had no relevance to us. We weren't even 30 when thirtysomething premiered.
The Sixties were about the Future. The Seventies were about nostalgia for the Fifties.
We ain't no Boomer.
This has been a point of perverse pride for us since Generation X hit the scene, because we ain't GenX, either. We had friends who totally identified with the label at the time. They were all three years younger than us. They had missed Disco, missed the onslaught. They got to be Punk, they got to be New Wave. We got platform shoes and flare pants.
Our perverse pride stemmed from not being a member of either labeled generation — the sidewalk crack of cultural demographics. In practice, being unidentified meant being untargeted, by popular culture or commercials. Nobody was gunning for us, nobody was pandering to us. We collectively weren't a large enough market. We weren't worth the trouble.
We didn't truly understand how good we had it until we saw Wayne's World. Not the whole movie, just That Scene, the guys in the AMC Pacer rocking out to Bohemian Rhapsody. The movie may have been "contemporary", but That Scene was totally Seventies, our Seventies, the good part before Disco swept it all away.
We felt it. We felt reached, for the first time in our pop-culture life. Thank god they weren't trying to sell us anything. Thank god we didn't have to endure that calculated pandering day after day.
We don't know how the rest of you do it, you Boomers, you GenXers, you Millennials, you Zoomers. We don't know how you live like that, with a cultural target on your backs. Disco passed, after all. We only have to live with the memory.
Yet now, all of a sudden, we're a Boomer. Sixty years coiled up in our mortality, and suddenly our blithe ignored existence is over. We're one of Them now. It's inescapable. It's right there on paper: The Baby Boom lasted from 1946 to 1964. Never mind that this was never the popular understanding, the cultural understanding, never mind that calling Barack Obama (b. 1961) a Boomer President would make your teeth grate. That thing you never were, you are now.
We've bristled about this: Like hell our Seventies teen years had anything to do with being a Boomer, like hell Seventies America was anything like Sixties America. And yet, we realize, it has nothing to do with self-identification, however much our slightly younger friends enjoyed their label. For the first time in our life, we've been targeted, grouped by age, identified for a purpose not our own.
We may grumble about the details, but at least we're getting some fucking attention for once.